A mosque is a sacred place for worship where people gather to pray. The mosque's flooring is covered with large carpets to provide a sitting arrangement for devotees. Mosque carpets are designed to add atmosphere, comfort, and utility value to mosques and other religious sites while also adding vintage decor and traditional artwork elements. With a combination of layers and color-graduated textures inside the patterns, these curated designs provide depth and richness of detail to any space. Choose the finest quality mosque carpets with the " Best Carpets Dubai" Brand. To assist you in making your decision to purchase, we have listed some of the unique features that our carpets will offer you.
Mosques are religious institutions where large gatherings assemble for prayer. Mosques welcome all visitors, so they must provide a spacious, pleasant space for everybody to sit. The mosque's flooring is a critical component for the start of the prayer. As a result, carpets are used to cover the floors of mosques, providing a smoother and more comfortable surface with an aesthetic appearance for sitting and worshiping. Mosque carpets are carpets that come in a variety of colors and patterns with soft cushion surfaces.
Our Mosque Carpet Features
Mosque carpets are

available in a wide range of sizes, shapes, and patterns

, with no fixed colors or designs. You may select any design, simple to ornate, for your carpet that complements the building's layout and interior.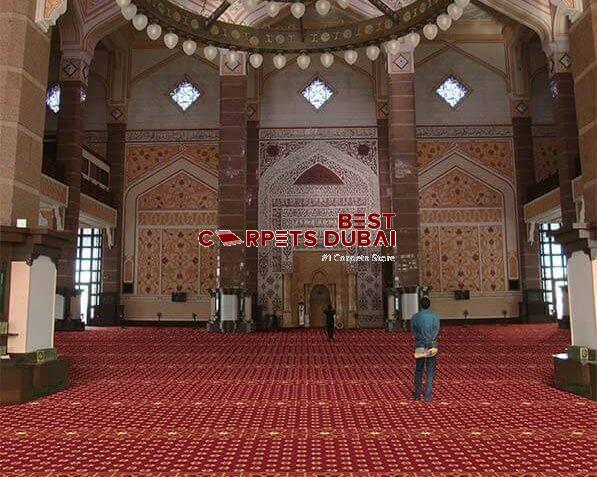 Still,

stripped and round patterns are the two most well-known design

s for mosques. The striped carpets feature the direction of worship for people. Mosque carpets with circular patterns offer a range of patterns and textures. Each form of circular mosque carpet has its own unique personality. These carpets are commonly used in mosques with large seating areas.

Mosque carpets are also a

vailable in a variety of symbolic and traditional designs

, making them perfect for religious contexts. By including exquisite color-graduated textures throughout the patterns, the compositions

provide detailed descriptions of refinement to the environment.

Some mosque carpets have a directional feature in every mosque that leads worshippers in the position of prayer.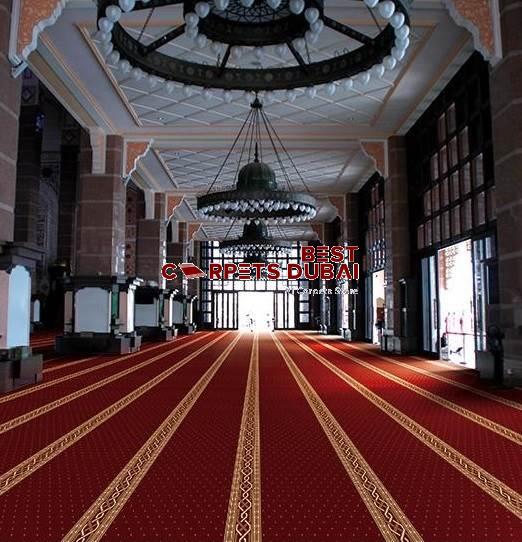 Why choose Best Carpets Dubai as your brand for Mosque Carpets?
The positive aura of prayers and the tranquility of the space with its interior design fill the mosque with peace and calm. Carpet flooring in sacred places such as mosques must be more unique and exquisite than any other carpet. In daily prayers, where everyone gathers, the carpet plays an important role. We recognize their importance and value, so we offer beautiful Mosque carpet collections. Because of this, our one-of-a-kind carpets are available in a wide range of colors, styles, prints, and materials to meet any requirement and suit the interior of any mosque. Our carpets are durable, long-lasting, require minimal maintenance, are easy to clean, provide thermal insulation, and are stain-resistant. We offer a specially designed and curated selection of mosque carpets at Best CarpetsDubai. Connect to our team for any queries or regarding other products and services.