Hand Tufted Rugs, Quality, and Affordability
Who doesn't like hand-made products made with love and hard work? Hand-made materials have no match in today's society, whereas everything else is curated in minutes by machines. Hand-knotted carpets are works of art created by artisans who have practiced and passed down this traditional skill for centuries. These are great choices as premium ornaments that are uniquely handcrafted and cause no harm to the environment.
Best Carpets Dubai is one of the top manufacturers and suppliers of carpets and rugs, specializing in elegant designs and hand-tufted carpets. Choose the perfect match for your space with our collections of a variety of over a hundred patterns and designs. We have given below some gist to learn more about hand-tufted carpets.
Process of Making a Hand Tuft Carpet 
A hand-tufted carpet is made by inserting strings of yarn onto a frame and punching them with a tufting device. This method takes less duration of manufacturing than hand-knotted carpet. The fun fact is that these skills are easy to learn by anyone.
The sequence begins with an artisan creating a design from the back. The craftsman uses a drill device called a "tufting tool" to inject yarn or fabric. After all of the yarn or other material has been inserted into the pattern, a covering is applied to the carpet with latex adhesive to keep the fibers in place. The weaver then wears the carpet strands, making the rug flat and ready for foot movement. The rims of hand-tufted carpets are sometimes tied to strengthen them.
Some Pros of Hand Tufted Carpet
Hand-tufted carpets are being used, making a unique drilling tool and tufting the fabric into a canvas. One of the benefits of purchasing a hand-tufted carpet is; It takes

less manual labor and time to make

and only requires basic craftsmanship knowledge.

Hand-Tufted Carpets are significantly

less expensive

because they are made with the help of a tufting tool but still have a

hand-made feel and look

, making them cheaper than hand-knotted carpets. You can get a

personalized design and texture

for a regular-sized carpet within a day or two, whereas a knotted carpet can take months.

 Hand-tufted carpet has a

thicker, coarser texture

. Both the front and back of the rug show a reasonable degree of compressive

resistance

when squeezed. These can be altered more quickly at any moment

within a budget range.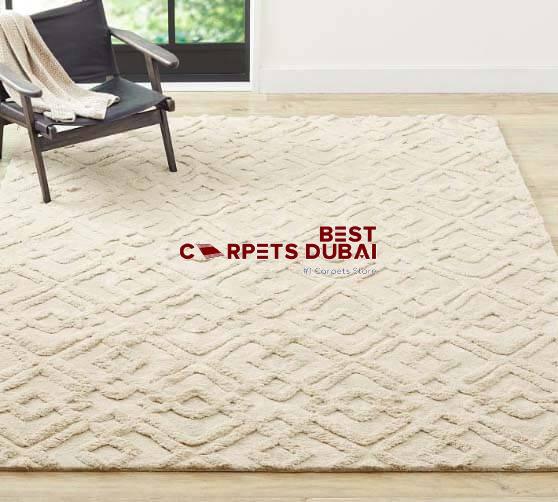 Why choose Hand Tufted Carpets from Best Carpets Dubai?
For many reasons, hand-made carpets have been a great choice as an interior piece at home and have their benefits. It gives the interior of any room a luxurious and appealing appearance. Our materials are selected using conventional procedures to ensure that there are high-quality fabrics used to make them for their durability. So, our artists use the most rigid fabric to make sturdy and long-lasting carpets. If you're looking for high-quality hand-tufted carpets at a reasonable price, you've come to the perfect place.
Best Carpets Dubai has a huge selection of carpets and rugs for you to choose from, all of which are high-quality and affordable. Our company offers unmatched value for money. To learn more about our products and services, browse the rest of our website or contact us.