Professional Carpet Installation Service
Investing in the interior decor of your house or business requires a lot of dedication and planning. And one of the cost-budgeting values is taken up by restoring your floor. So the most cost-effective restoration and interior decor for a floor is a "carpet." A new carpet fitting gives a floor a second life. Carpet installation makes the floor appear new, luxurious, and amiable to your home. 
There are two things to remember for a new carpet fitting and installation: First, select the right kind and type of carpet and let it blend with your floor. Second, hire a professional carpet installation service so you won't regret it later. For all these concerns, "Best Carpets Dubai" has a solution for all your issues. We are the best carpet suppliers and manufacturers in Dubai and the UAE, with our experts' complimentary carpet installation services at your doorstep!
Here are a few steps to keep in mind when you're looking for carpet installation:
Creating a budget for carpet installation
When deciding to purchase a new carpet, you have many options. You need to assess the living areas of your house to ensure you get the finest type of carpet, carpet cut, carpet cushion, and carpet fiber as per your requirements within your budget price range. Also, thoroughly investigate the cost of installation services.
Choosing the right carpet for your floor
Carpets come in various materials and multiple designs, textures, and thicknesses. Choosing the right carpet that matches your requirements is important, and a carpet should complement and enhance the interior space. Select the type of carpet for your flooring according to the place of use. A smooth and gentle surface will be perfect for kids, whereas using it in a crowded area with frequent use necessitates a durable, long-lasting, dust-and-stain-resistant carpet. The choice of carpet depends on the type of flooring and its surroundings.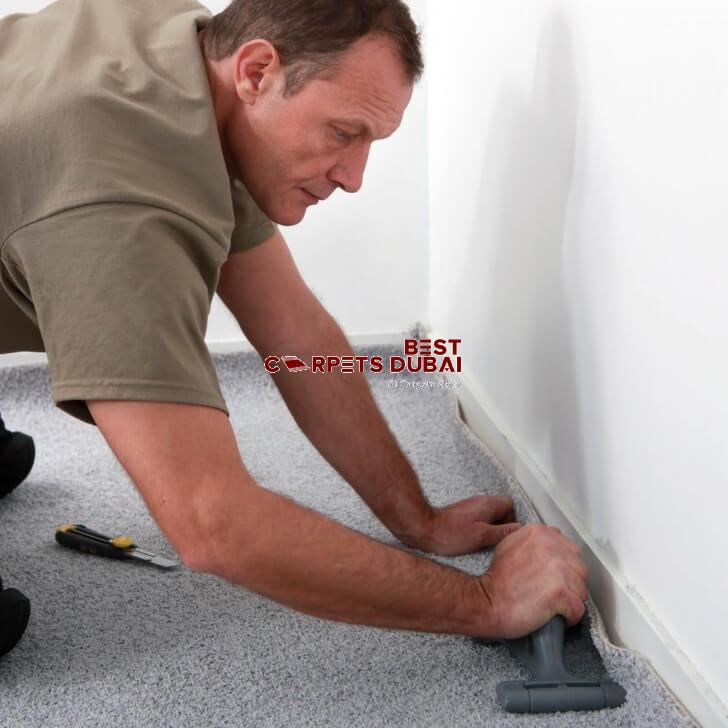 Carpet fitting and installation specialist
Carpet fitting for a new carpet installation or replacing an old one is an expert's job. Especially when it comes to carpet replacement, a professional carpet installer should be considered. Installers wear masks to protect themselves. They carefully remove the old carpet, clean any dirt moldings around the floor and at the door, and provide additional services such as a complete restoration.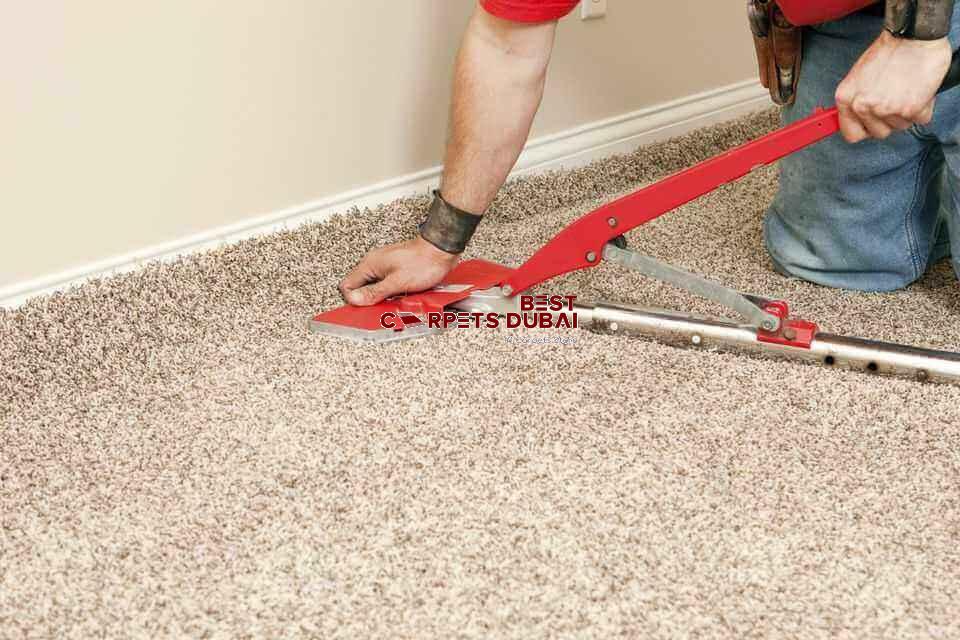 Step 1: Installing the new carpet's underpad: The old carpet cushion will then be removed and replaced with the new carpet padding, giving your new carpet a completely different feel and performance. The floor will be thoroughly cleaned and dried by the installation, and the carpet will feel cleaner in the long run if the underfloor is tidy.
Step 2: New Carpet Fitting and Installation: The expert will then remove the extra layer from the corners and replace the carpet with no waste or damage.
Why choose Best Carpet Dubai for carpet fitting and installation services?
Are you struggling to find a new carpet and then concerned about finding someone to do its installation? We provide both options in one place. Best Carpet Dubai offers personalized premium carpets at affordable prices to bring life to your home with complementary services at your doorstep. Our carpets are durable, long-lasting, and have smooth, seamless surfaces. Contact us now to get new flooring for your home.